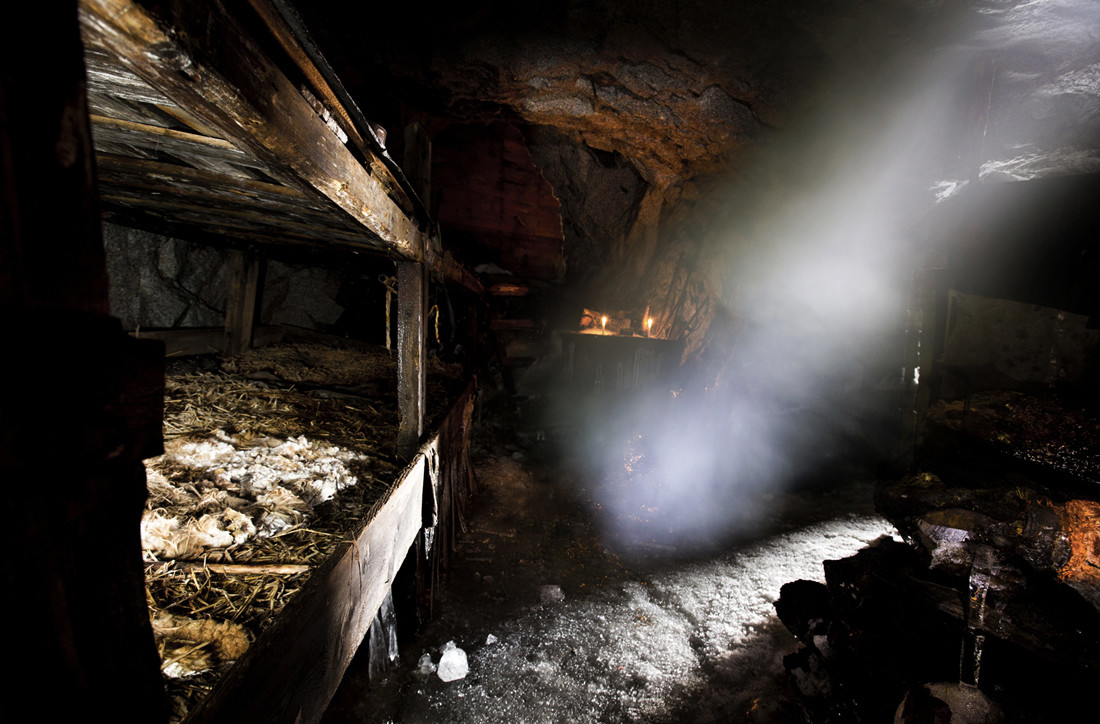 La grotta del Cavento -The cave of Cavento (007)
La grotta del Cavento merita un discorso a parte. E' una grotta a 3400 metri di quota sulla cima di una montagna, il Corno di Cavento appunto, nel gruppo del Carè Alto. Costruita dagli austriaci, conquistata due volte dagli italiani, è un luogo impressionante. Abbandonata alla fine del conflitto nel 1918, è rimasta sepolta tra i ghiacci per 80 anni, e, come un vero freezer della memoria, ha custodito uno spaccato importante della vita al tempo della guerra in alta montagna. Ci sono stato più volte, almeno cinque, anche pernottandovi in un'occasione, perché non ero mai soddisfatto delle fotografie scattate. Lì dentro, tra il ghiaccio per terra, l'umidità che cola da tutte le parti e il buio completo, non è facile trovare l'immagine giusta. Vincendo anche un senso claustrofobico, causato forse più dall'idea di essere chiuso in una stanza del passato, ho realizzato le immagini della grotta centrale con le brande in legno e paglia, e della camera del comando. Nel 2014, all'uscita del film «Torneranno i prati», ambientato in una trincea di montagna, espressi a Olmi la mia ammirazione per l'accuratezza con cui nel film erano stati ricostruiti gli interni delle camerate, così simili a quelle originali che io ho visto e fotografato dal vero.
The cave of Cavento deserves a separate discussion. It is a cave at 3400 m of altitude, on a mountain top, the Corno di Cavento, in the group of Carè Alto. Built by the Austrians, conquered twice by the Italians, it is an impressive place. Abandoned at the end of the conflict in 1918, it was buried in ice for 80 years and, as a true freezer of memory, it has secured an important insight into wartime life at high altitude. I have visited it several times, at least five, and I once even spent a night there, because I was never happy with the photographs I was taking. The ice on the ground, the moisture dripping everywhere and its complete darkness, make it very hard to shoot the right image. Trying to win a claustrophobic sense caused perhaps by the idea of being locked in the past, I took the pictures of the central cave, with its thatched wooden bunks, and of the command room. In 2014, after the release of the film "Torneranno i prati", set in a mountain trench, I wrote to Ermanno Olmi, the film director, to congratulate with him for his very accurate reconstruction of the dormitories, since they were exactly like the original ones I had seen and photographed.