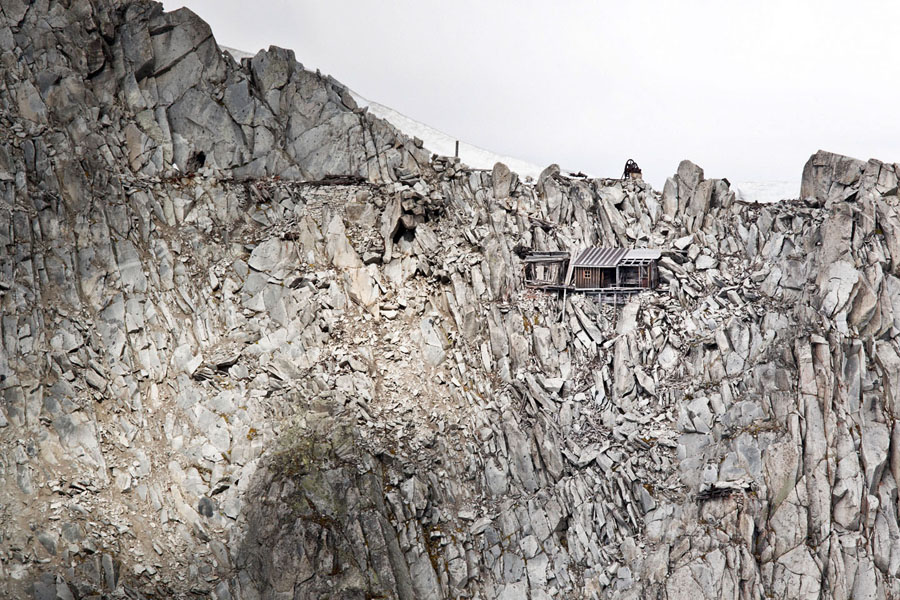 Visti dal cielo – Aerial view
In volo tutto cambia. Dall'alto si ha una percezione molto diversa. In genere ho sempre prediletto le vedute da terra, ma in questo caso ho utilizzato l'elicottero per alcuni sorvoli importanti sui ghiacciai. Staccandomi dal suolo, ho potuto realizzare inquadrature con la prospettiva frontale di siti militari a picco sulle dorsali delle montagne, come nel caso di Carè Alto o delle baracche del Gran Zebrù, oppure riprendere la baracca dei Coni di Ghiaccio che emerge come una isola nel grande mare bianco. Sono vedute uniche e eccezionali, che danno il senso pieno della vastità dei panorami di guerra, e sopratutto della temerarietà di chi ha costruito e vissuto in luoghi estremi e impervi.
Everything changes in flight. From the top you have a very different perception. I usually prefer the views from the ground, but on a few crucial occasions, I used the helicopter to fly over the glaciers. I could thus take shots of the front prospect of military sites, on the sheer ridges of mountains as in the case of Carè Alto or the cabins of Gran Zebrù; or I was able to photograph the cabin of Coni di Ghiaccio emerging like an island in a vast white sea of ice. These are unique and dramatic views that convey the full sense of the vastness of the war horizons and, most of all, of the audacity of those who settled and lived in extreme and inaccessible places.